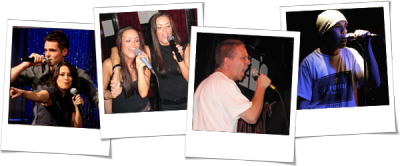 "Simply put, Karaoke is a musical presentation that supplies backup singers and the instrumental accompaniment, while you create the lead vocals from the lyrics presented to you on a screen.
Karaoke offers ordinary people the opportunity to do something extraordinary . . get up on stage and sing with the backup of some of the best known musical groups in the business. Karaoke singers not only have great fun as they "do their thing" on stage, but they can discover a new avenue of self expression and confidence building. Some actually become stars among their friends & peers in the crowd watching. While It's more about fun, than developing a career, the beauty of it is that anyone can do it! Many well known artists have been known to show up at Karaoke shows & sing into the wee hours of the morning, because it's just so much fun!"
Our Karaoke System is one of the largest north of Toronto with over 85,000 songs. From Sinatra to Usher we have it all!
Package

Hosts

Catalog

Sound System

Microphones

Monitors

1

1

1 Computer
85,000 Songs

Sufficient for 100 people

2 Corded
Microphones
1 Video Monitor
For Singer

2

1

1 Computer
85,000 Songs

Sufficient for 200 people

2 Cordless Microphones

One Monitor for Singer

1 Lg Monitor for Audience

3

2

1 Computer
85,000 Songs

Sufficient for 500 people

3 Cordless
Microphones
One monitor for Singer
1 rear projection Video Screen 6' x 6'
8 Par Can Lights, Props & Costumes